Let RJAgency Help you to Build your Future!
email RJAgency@gmail.com tel. 63 32 261 7759
We will GUIDE you step-by-step with all the advice's that you need in order to get well established with the lifestyle you deserve in the Philippines and abroad…
Services
Retirement Visa

Discover and Enjoy Philippines…​
​
Hassle Free… Lifetime Visa!
Recent News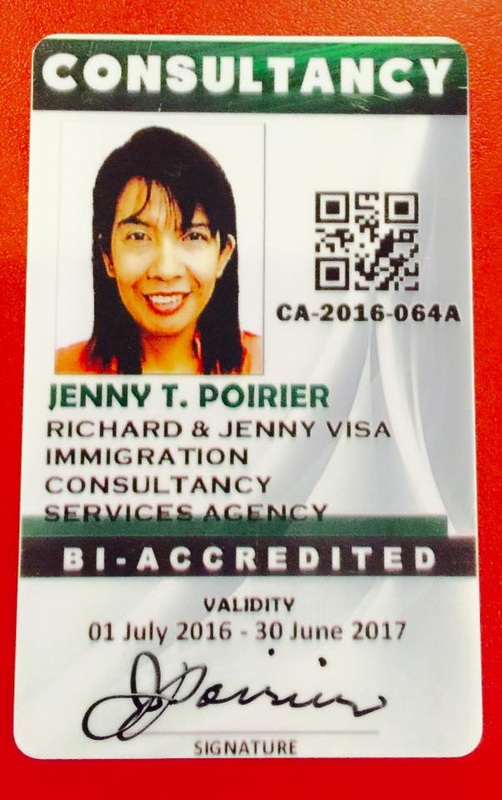 Congratulation to our two employee of RJAgengy;
Margie Rose M Batulan and Peter Paul E. Estillore to passed with success the accreditation of the Bureau of Immigration 2016 they Joined Jenny Treyes Poirier Acredited already many years ago...
Note: We are not fixer and we are not a recruiting company!!
​
http://www.rjvisa.com
info@rjvisa.com
RJAgency@gmail.com
For appointment please Contact:
Tel.

+63 32 261 7759

or +63 32
268 0015
Fax. +63 32
268 0015
Cell. No. 09164113983 /09233629005
Branch office Cebu / Mandaue with coffee/snack/bar
Pelaez Bldg.A.S. Fortuna St., Mandaue City, Cebu 6014, Philippines
(across J Centre Mall, between Suzuki and Arbee's Bakeshop)
Bohol
Location: 2nd flr. Sarabia Co Torralba Bldg. CPG Avenue Tagbilaran City, BOHOL PHILIPPINES
(BESIDE BUREAU OF IMMIGRATIONS)
tel/fax: 63 38 412 7759

We Recommend:

​
ULTRA Website Hosting
Top-rated website hosting plans loaded with features and with live support.
http://www.ultrawebsitehosting.com/2182.html